Exploring the Unique Features of New Kolkata Sangam: Where Luxury Meets Serenity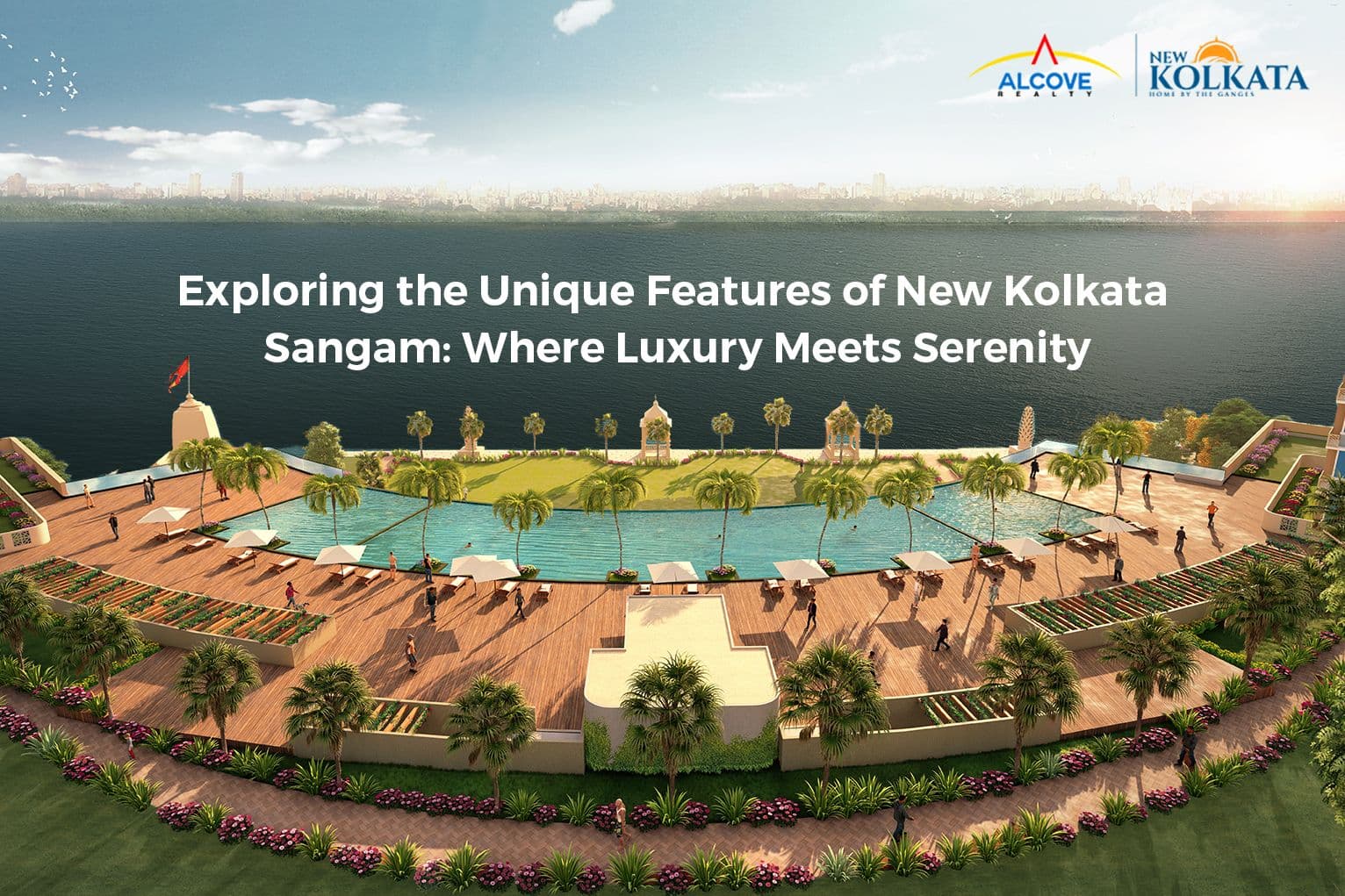 Are you searching for your dream home in Serampore, Hooghly? Look no further because Alcove New Kolkata presents a remarkable residential complex that seamlessly blends luxury and serenity. Nestled on the banks of the majestic Ganga, New Kolkata Sangam offers a unique living experience that is truly unparalleled. In this article, we will delve into the exceptional features and amenities of this upcoming township, making it an ideal choice for modern homebuyers.
Alcove New Kolkata Sangam - A Township Like No Other
Alcove New Kolkata Sangam, developed by Alcove Realty, is an upcoming residential complex in Serampore, Hooghly. This township stands out from the rest due to its idyllic location and thoughtfully designed homes. It offers a harmonious blend of luxury, comfort, and tranquility, making it a perfect choice for those seeking a serene living environment. New Kolkata Sangam offers luxurious flats in Serampore, providing residents with a comfortable and stylish living space.

Breathtaking Views of the Ganga: A Soul-Soothing Experience
New Kolkata Sangam stands as a testament to the rising demand for flats in Serampore, offering a distinctive living experience. One of the most captivating aspects of New Kolkata Sangam is its close proximity to the Ganga. Imagine waking up to the mesmerizing views of the river every morning, feeling a sense of tranquility wash over you. The sight of the flowing Ganga is not only visually stunning but also provides a peaceful ambiance that rejuvenates your mind, body, and soul.

Varied Options for Comfortable Living:
Alcove New Kolkata Sangam offers a wide range of residential options to suit different lifestyles and preferences. Whether you are a young professional, a growing family, or someone looking to downsize, you can find the perfect home here. The township provides 1, 2, 3, and 4 BHK flats, ensuring that every resident finds their ideal living space. As a pioneering new project in Serampore, New Kolkata Sangam introduces innovative architectural designs and luxurious amenities.

Alcove Realty: Builders You Can Trust in Serampore
Alcove Realty, the esteemed builder in Serampore of New Kolkata Sangam, brings its expertise and reputation to the residential landscape of Serampore, setting new benchmarks for builders in the region. With a strong track record of delivering high-quality projects, they have earned the trust and admiration of homebuyers. When you choose a home built by Alcove Realty, you can be assured of excellent craftsmanship, attention to detail, and timely delivery.
Modern Amenities for a Luxurious Lifestyle
New Kolkata Sangam offers an impressive array of amenities that enhance your living experience. As a new project in Serampore, New Kolkata Sangam presents modern homes built to the highest standards of quality and craftsmanship. Let's explore the amenities available at different levels within the township:
Ground Level Amenities
Private Ganga Ghat: Enjoy direct access to the Ganga, allowing you to immerse yourself in its beauty and serenity.
Riverside Gazebo: Relax and unwind in a peaceful setting while marveling at the river's enchanting views.
Walking, Jogging & Cycling Track, Skating Rink, Splash Poo, Amphitheatre, Yoga and Meditation Lawn, Outdoor Gym, Mini Theatre For 90 People, Adult and Kids Swimming Pool, Convenience Store, Squash and Badminton Courts.
It also includes Podium Level Amenities such as
Dedicated Parking Area, Daily Convenience Store, Diagnostic Centre, Banquet Hall with Dedicated Kitchen, Restaurants, Multiplex, Food Court, and Salon Service.
New Kolkata Triveni: Catering to Your Every Need
Living at New Kolkata Sangam means that all your essential requirements are taken care of at this residential project in Serampore. The township provides easy access to New Kolkata Triveni, Hooghly's largest omniplex. This integrated facility caters to a range of needs, including dedicated parking, a daily convenience store, a diagnostic center, a banquet hall with a dedicated kitchen, restaurants, a multiplex, a food court, and salon services. With New Kolkata Triveni just a stone's throw away, you have everything you need at your doorstep.
Discover the perfect blend of luxury and serenity at New Kolkata Sangam, an outstanding residential project in Serampore. Alcove New Kolkata Sangam offers an unmatched living experience in Serampore, Hooghly. With its picturesque location, luxurious amenities, and trusted builders, it is an excellent choice for those seeking a harmonious blend of luxury and serenity. With its thoughtfully designed homes and exceptional amenities, New Kolkata Sangam sets a new benchmark for builders in Serampore. Experience the joy of living in a township that not only meets but exceeds your expectations.